Welcome to Danza! Performing Arts Academy; Celebrating 24 years of dance inspiration. Browse our website and see why DPAA is the place to be! The studio provides an outlet to express passion for the arts, challenging abilities in a positive way and allowing each student to attain higher goals. Dance is a balance of mind, body and spirit. Danza! provides the tools to prepare them for the stage and life beyond it.
It is the mission of Danza! Performing Arts Academy to develop dancers to their fullest potential by instilling an appreciation of the arts, self confidence, discipline and respect for themselves and others. Danza! will provide the guidance to grow and develop a love of dance that last a life time. DPAA provides the highest quality dance education is a nurturing, respectful and safe environment in Chautauqua Counties largest dance facility.
Danza! Wins 7 National Titles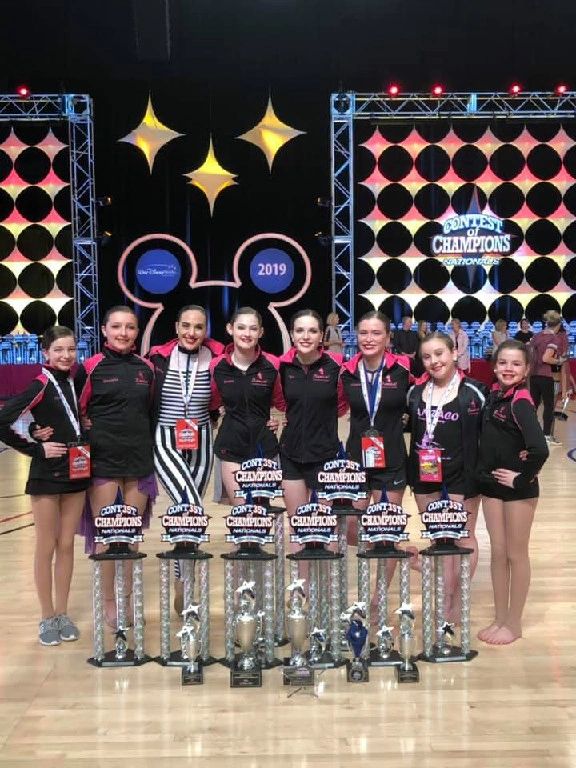 Danza! Performing Arts Academy is pleased to announce their Danzaco Dance Company
dancers have just returned from National Dance Competition with not one but Seven National Titles.
Dancers competed at the Contest of Champions held at the ESPN Center located at the Walt Disney Resorts in Orlando Florida. The studio brought five ensemble dances all winning their division and the National Title for their genre. Senior Jazz performed a Bob Fosse inspired "All that Jazz" earning the Companies highest score in group performance. Junior Hip Hop "Alexander Hamilton" additionally earned Director Krista Taylor the only choreography award of the event as well as the Hip Hop Title. Junior Contemporary Title was given to "Mama Who Bore Me". The Musical Theatre Title was awarded to "Seize the Day" from Newsies and the small group Musical Theatre Title was given to "Revolting Children", all performed by Danza! dancers. Danza! competed against studios from across the United States and received the most Titles of any attending studio.
In addition to ensemble pieces the Company also competed in the Duet/Trio and Solo
competition. Kyra Taylor and Mckenna Taylor won the Highest scoring duet, trio or small
ensemble dance of the entire competition for "Defying Gravity". The duo also won the Senior
duet/trio Title.
In solo action Mckenna Taylor received her 3rd National Title for Highest scoring senior solo as well as the highest scoring solo of the entire competition by a margin of an unheard of 25
points. Not only did Danza! represent the Senior division with first but also the second and third places by Tabitha Shevlin and Kyra Taylor respectively.
The Junior solo title was awarded to Emma Forthman with a respectable 4 th place for the
youngest competitor in category Marissa Grisanti. In addition to competition the studio had a
private class and mock audition including original Disney choreography from current shows.
Dancers all received a certificate in recognition. Choreography and Company direction is provided by Danza! Director Krista Taylor. All dancers take class minimally in Ballet, Tap, Jazz, Hip Hop and Tumbling at the studio in addition to a weekly rehearsal session. Other forms such as Pointe, Acro, Contemporary, Irish and Lyrical round off their dance education.
The Company enjoys performing at a variety of community and charitable events. This season the dancers will participate in numerous competitions throughout Ohio, Pennsylvania and New York.